Mike Solomon (K.U. Jayhawker) sent this to me this week. Source is the Wichita Eagle May 28, 2010. It tells three different examples of being the son of a famous runner played out. All the famous guys were U. of Kansas milers who you all know, Ryun, San Romani, and Cunningham.
Trivia question. Who was the first Jayhawk to break 4 minutes in the mile? See at end of story.
Cunningham
Ryun
San Romani
Ned Ryun
Archie San Romani Jr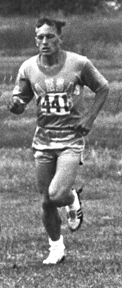 Glenn Cunningham Jr.
Pressure's on when dad's a legend
If you want to see what you're made of, try walking in the footsteps of greatness.
Better yet, try running in them.
Jim Ryun, Glenn Cunningham and Archie San Romani Sr. are three of America's greatest distance runners, all produced right here in Kansas.
Ryun, from Wichita East, was a three-time Olympian and multi-world record holder. He ran a 3-minute, 58.3-second mile as a high school senior in the 1965 state high school track and field meet, a ridiculous accomplishment that, 46 years later, hasn't been matched.
Cunningham, an Elkhart native who nearly lost his legs after being badly burned in a schoolhouse fire when he was 7, later used those scarred legs to set the world record in the mile (4:06.8) in 1934 and was the 1933 winner of the Sullivan Award, given annually to the country's top amateur athlete.
And San Romani, from Frontenac, was an AAU and NCAA champion in the mile who finished fourth in the 1500 meters at the 1936 Olympics in Berlin. Like Cunningham, San Romani was badly injured as a child when his right leg was nearly crushed.
But how do you measure up if you're a son of one of the greatest distance runners in history? How do you resist the comparisons? Running is something you've been born to do, but how do you resist hating it?
Ryun (1963-65), Cunningham (1929-30) and San Romani (1932) were all winners of the mile race in the Kansas state high school track and field meet.
So were their sons: Ned Ryun (Lawrence, 1991); Glenn Cunningham Jr. (Leon, 1966) and Archie San Romani Jr. (Wichita East, 1957-59).
They are legacies unlike any other in the soon-to-be 100-year history of the state track and field meet, three magical last names in the annals of Kansas sports history.
Whether they acknowledged it or not, there will built in pressure in being the sons of such prolific fathers. Fortunately, it wasn't overwhelming, at least it wasn't for Ned Ryun and Glenn Cunningham Jr.
Neither was close to being as accomplished as their fathers. But they ran, free in their minds that comparisons to their famous fathers, while inevitable, wouldn't swallow up their own accomplishments or identity.
The Ryuns
"It was kind of funny because my dad really didn't want us to run,'' said Ned Ryun, 37, who had a twin brother and two sisters who, of course, were runners. "It wasn't because he didn't want us to be competitive. We played soccer, baseball — all of those things. But we really didn't pick up running seriously until we were around 15 or 16. Our dad just didn't want to have that pressure on us.''
That's because Jim Ryun knew what that kind of pressure could conceivably do. It could turn off his kids toward running, make them apprehensive about being named Ryun and trying to compete in a sport their father conquered.
"Something Ann (his wife) and I tried to do from the very beginning was to help our kids establish their own identities and not mine,'' said Jim Ryun, a Kansas second district representative in Congress from 1995-2006. "God gives each one of us different talents.''
Ryun's children were born in California, where he and his wife moved after his college track career at Kansas in part to protect his kids from his notoriety. In Santa Barbara, the Ryuns lived a subdued life. He was famous everywhere, but the children were better shielded from the spotlight.
"He never wanted to live through us,'' said Ned Ryun, who lives with his family in northern Virginia. "He was always there for us, always supportive. But, boy, he really wanted to be hands off because he didn't want us to feel that pressure. It was a delicate balance.''
Jim Ryun has lived as quiet a life as a former world-class athlete and Congressman can. Ned recalls walking in the halls of the Congress with his father and being approached by people who asked him about being the son of a man who had been the greatest in his sport of choice.
Ned was unaffected because hid dad was.
"A more humble guy you would not meet,'' Ned said of his father.
The San Romanis
Archie San Romani Jr., on the other hand, struggled to find a balance with his father, a man who struggled to let things be.
Archie Sr., who died in 1994 at the age of 82, was a strong rival to Cunningham and their battles often crossed state lines. They came from opposite corners of Kansas, but crossed paths in a mile race 28 times, according to the Kansas Sports Hall of Fame. Each won 14.
The San Romanis moved from Frontenac to Wichita before San Romani Jr. entered high school. While at East, he never lost a mile race. A month after graduating, he ran the fastest mile for a high school athlete, 4:08.9, in Compton, Calif.
Yet it's fair to question how satisfying his accomplishments were because of an overzealous father who, unlike Jim Ryun, couldn't keep his hands off.
San Romani Sr. and East coach Bob Timmons, San Romani Jr.'s coach at East who later would coach Ryun, often butted heads over San Romani Jr.'s, development, which caused friction between father and son.
"It's difficult to be the son of.. '' San Romani Jr., said without finishing his thought. "I never really tagged along with my dad when he was running and I was a kid. But I know he got pretty involved in what I was doing. I think my dad — and I'm not sure how to phrase this — but I think he was trying to re-live parts of his life through me. And that became a deterrent, almost.''
Fortunately, the younger San Romani had Timmons, a my-way-or-the-highway type who was not afraid to confront the father.
"Timmons was an old Marine and I remember one time he asked my dad, 'Who's coaching this kid, you or me?' '' San Romani Jr. said. "That was while I was still in high school, of course, and apparently they had more than one visit.''
But the pressure didn't lessen for San Romani Jr., who after high school enrolled at KU, then quickly transferred to Wichita State. But living at home wasn't the answer and pressure built for him to move away, to go somewhere that would put distance between him and dear ol' dad.
"I told my mother, 'I've just got to do this on my own,' '' San Romani Jr., said. "I couldn't deal with the constant pressure. I just had to go make my own footprint. So I bought a one-way ticket and went to Oregon.''
It was a bold move for such a young man, but Oregon is where he prospered, running on a world-record mile relay team, finishing second in the NCAA mile and twice competing in the Olympic Trials.
San Romani Jr., 69, has been in Oregon ever since his move, living in Eugene, where he worked in pharmaceutical sales and taught scuba and flying. He and his wife, Janie, who have four children, have also taught ski patrol classes for years.
All of San Romani Jr.'s children became competitive downhill skiers, just dabbling in track and field. He didn't push them, he said, because he was cognizant of what his own father's pushing took away from his experience.
It was a strain on their relationship, but the two became closer as they got older.
"I think I was very fortunate to have a dad like I did,'' San Romani Jr., said. "A man who finally was able to back away.''
The Cunninghams
Glenn Cunningham and his wife, Ruth, had 10 children. They later opened a facility to help care for disadvantaged and neglected children, influencing close to 10,000 kids. And they always raised horses.
So Cunningham didn't really have an abundance of time to become over-involved in his children's endeavors.
"I was always aware that it was going to be all right with my dad whether I ran or didn't run,'' said Cunningham Jr., 62, who works in a Wal-Mart pharmacy in Poteau, Okla. "That doesn't mean my dad didn't push me in many things. I learned a work ethic from him at a very early age. He was a strict dad and a disciplinarian.''
Being the oldest son in the family, and named for his dad, Glenn Jr., embraced the legacy his father established. He wanted to run and he wanted to be successful.
"I really did want to excel, but I never felt that kind of pressure from my father that I needed to get out there and emulate or equal what he accomplished,'' Glenn Jr. said.
That would have been impossible, anyway. Glenn Cunningham was the state's first distance-running star, setting the stage for those who would follow like Billy Mills, Wes Santee, Bill Tidwell and, of course, Ryun. Cunningham was so good he carried three nicknames: The Kansas Flyer, The Elkhart Express and The Iron Horse of Kansas.
His story was compelling on so many levels, beginning with the nearly-decapitating injury he suffered in the schoolhouse fire, in which one of his brothers was killed.
Cunningham was larger than his running, larger than life, really.
"And I felt lots of encouragement from him,'' Cunningham Jr., said. "After I won the state mile in 1966 for Leon, I was invited to the Golden West meet in California. I knew I was invited as much due that my father was Glenn Cunningham as for the fact that I was running the mile.''
Cunningham Jr. ran a 4:22.1 to win the Class B mile for Leon. Every other runner invited to the Golden West meet had run 4:10 or better. He feared he would be swallowed up by the competition.
Knowing that, Glenn Cunningham took three weeks to help his son train for the California meet. They would go on daily 10-mile runs, during which Cunningham would drive his car while Glenn Jr. ran along on Butler County dirt roads.
"He really worked with me, really tried to sharpen me,'' Cunningham Jr. said. "And I dropped my mile time to 4:13.8 and placed fifth in the Golden West mile. I was so pumped up for that race that I ran a 56-second first quarter, three seconds better than my previous best time.''
As a kid, Cunningham Jr. was constantly asked what he was going to do to try and be a better runner than his dad. Perplexed, he often just nodded his head because he didn't know what to say.
Deep down, though, he knew it would be impossible to surprise his father's accomplishments. That didn't keep him from running — for fun and to compete.
"I grew up on a ranch where we did a lot of physical labor and a lot of running,'' Cunningham Jr. said. "I remember being out on a back pasture, maybe a mile or so from the house, and deciding I was going to run back and dad was going to run with me. I was maybe 10 or 11. We were going stride for stride and I remember thinking my dad was probably waiting for me to drop out. But I was determined I wasn't going to drop out. I ran all the way back.''
It was fun for Cunningham Jr. to be his father's son.
"I never felt intimidated or pressured by him,'' he said. "I never felt that my dad expected me to be in a race or to accomplish a particular thing. He was tremendously proud of what I was able to accomplish, even though it was far less than what he did.''

Answer: Bill Dotson. Unfortunately for Dotson, he did not break the WR for the mile, so he is all but forgotten when talking about these luminaries.